THE THREE BROTHERS AND… THE GSR
IN 50 YEARS OF EXPERIENCE, THE ABGRALL FAMILY HAS FORGED A SOLID REPUTATION IN THE SURFACING INDUSTRY IN THE AREA DAOULAS IN BRITTANY. BORN FROM A NEED FOR THEIR OWN ACTIVITY, ROLAND, PHILIPPE AND PIERRICK HAVE DESIGNED AND DEVELOPED THE GSR - FOLLOWER GRADING BUCKET. THE ABGRALL FAMILY HAS SUCCEEDED IN DEVELOPING A STRONG NETWORK OF BUSINESS PARTNERS. RESULTING IN A WIN-WIN RELATIONSHIP, AS WITH THE MANUFACTURER KNIKMOPS.
A FAMILY HISTORY
Created in 1972 by their father, Roger, the Breton company is based in Daoulas, it first specialised in landscaping, pruning or felling. A first attempt at diversification took place in 29 with the first incursions into asphalt and road works in the surrounding municipalities. "We have gradually moved away from landscaping to make roads and ground works our main activity", explains Roland Abgrall, the middle brother.
He and his two brothers, Philippe the eldest and Pierrick the youngest, joined their father to support him and develop the business. In 1997, it became the SARL "Abgrall Roger & Fils" and they invested in its first finisher. "We started with a Bitteli BB 621 before moving on to the larger BB 632, which was better suited to our activity", confide Pierrick and Roland. The latter, already having some experience in the trade, realises with his brothers that there was a lack of equipment and tools for compact machines that would make the work easier by reducing manual work. Roland sets to work, a first sketch is drawn and a first prototype comes out of the Daoulas workshop with Philippe cutting and welding. The first tests are carried out using a Skid with a bucket of 2 meters and a capacity of 1,5 tonnes. A smaller model of 1,5 meter including new improvements will be manufactured, at they same they also acquire a 2,5 ton loader. This new ensemble is much better suited for work on smaller sites.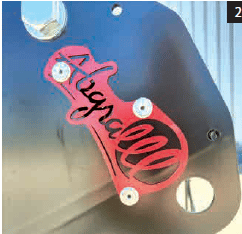 INDUSTRIALISATION AND RECOGNITION
The three brothers won't stop making improvements! They bring new evolutions with "a round shape for a better flow of materials" and approach the manufacturer EMILY located near Daoulas, to produce the bucket at their factory. The first GSR was officially released in 2017 for a commercial launch in 2018. Shortly after, two more buckets will be exhibited at Intermat international fair "with great success". The GSR is starting to be well known. With its logo (LLL) called (tri-L) in relation to the 3 brothers, it represents the ABGRALLL brand and their motto (Liens, Liberty, Labour mad).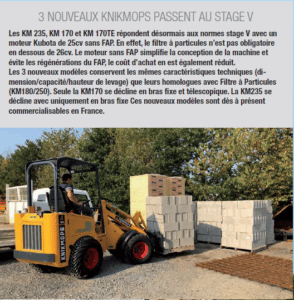 Commercial relationship with KNIKMOPS
Since 2018, around a hundred units have been sold in France and Switzerland. If the company sells directly, it increasingly works with distributors (BLANCHARD TP, LOCARMOR, LOMATER, etc.). "It's a win-win relationship between the distributors, rental companies and ourselves", is happily comments Roland Abgrall.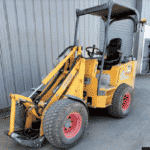 The manufacturer, which equipment is imported and distributed by Dieci based in La Guerche also in Brittany, contacted Abgralll Conception to test the GSR on their loaders. The tests are very conclusive and everyone is see the great potential between the knikmops equipement and the "made in Abgralll" bucket. The three brothers acquired two KM 35s and created a new 180 meter wide GSR adaptable to smaller loaders including the KM 1,10. Three models are currently on sale, the GSR 120, the GSR 110 and the GSR 150. In addition, another product called "Cubenne", which allows for a secured unloading of materials from the back of trucks, is also marketed.
NEW PROJECTS AHEAD
The story is beautiful and far from over. Roland Abgrall annonces that new features will arrive soon. "I greatly believe in the tool carrier, and from experience, I can see all the advantages it brings: its easy handling and transport, its lifting capacity, its speed and its small size. At the depot or on the construction site, it is your everyday work companion, it is reliable and energy efficient, it saves time and greatly relieves the personnel. The GSR is one more accessory that add to its versatility, it is amortized even faster! The GSR as an attachment to a small loader is a real solution for road works (driveways and courtyards, sidewalks, trenches, etc.) it seems to me that some manufacturers really see this opportunity. As it stands, some distributors come to us, either directly or on behalf of customers looking for solutions. It can be small businesses or nationwide companies. I think soon this will change with the presentation of new options for existing products and brand new products. We are moving forward slowly but surely to build solid foundations for our company and healthy relationships with our partners and customers".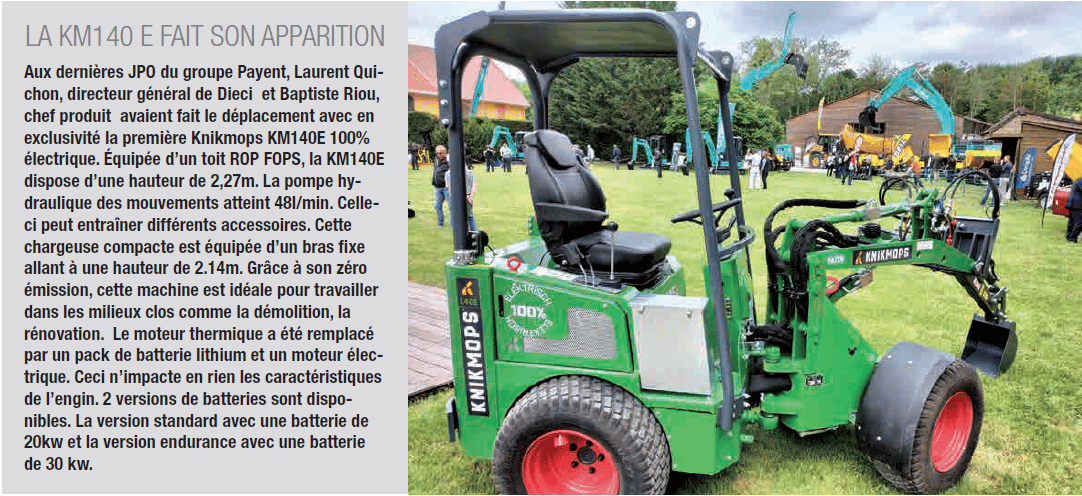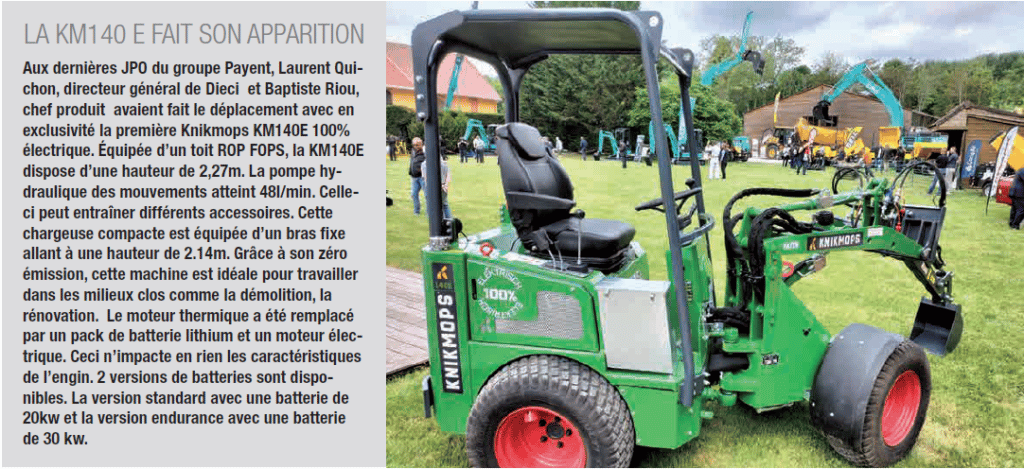 BTP Magazine N. 349 published in September 2022